Our Partners
Raintree Nuirsery is an excellent source of quality rootstock in smaller quantities. Since 1972, they have been supplying flavorful, disease resistant fruit varieties to backyard gardeners like you.
http://www.raintreenursery.com/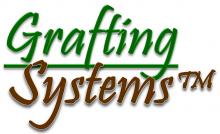 Grafting Systems provides the highest quality grafting tools, supplies, information and other grafting resources to orchardists, vineyardists, nurserymen, horticulturalists, and others who rely on grafting to maintain productive orchards and vineyards or to propagate new plants for orchards, vineyards and nurseries.
http://www.graftingsystems.com/
For any information you may need regarding the Geneva¬ģ series rootstock.
http://www.ctl.cornell.edu/plants/GENEVA-Apple-Rootstocks-Comparison-Chart.pdf